Student Gateway
---
Keep Carolina safe
You have a critical role in reducing the spread of COVID-19 on campus and in the Carolina Community. Demonstrate your commitment to keep UofSC in good health by being a part of #IPledgeColumbia and honoring the pledge wherever you are.
The bronze statue honoring Wilson, the former All-American and National Player of the Year, was officially dedicated Jan. 18.
Check out this week's highlighted jobs, internships, co-ops and service opportunities from YOUR UofSC career finder, Handshake.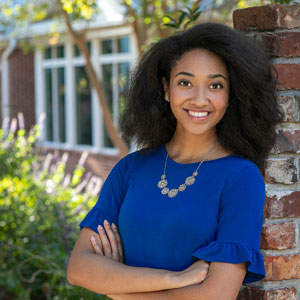 .After losing both of her parents, Antonia Adams has made a new start at the South Carolina Honors College. Her journey shows the importance of perseverance and the belief that education can restore confidence and hope.
Student Events
Dates and Deadlines
Tools and Resources
---
The University of South Carolina's 2021-2022 state budget request focuses on building a new state-of-the-art medical school and research campus dedicated to improving healthcare across the state while also holding firm on a tuition freeze for in-state students.
Since he took office in July 2019, President Caslen has faced challenges ranging from responding to COVID-19 to turning around a struggling football program. Senior public relations major Caroline O'Looney interviewed the president about his approach to leadership.
The University of South Carolina's College of Nursing ranks No. 1 among all U.S. universities for its online graduate nursing program, according to U.S. News and World Report's annual online rankings.
View More Stories