Health Sciences
The University of South Carolina system is the state's most comprehensive health care research and education entity. We are elevating life and health for all South Carolinians.
Every day at South Carolina, students, faculty and researchers tackle health care's most persistent issues with a watchful eye on what's ahead. We're working for a healthier state through the clinical education of next-generation medical professionals and in studies spanning dozens of health care-related research centers and institutes.
South Carolina awards more than 5,000 health care-related degrees annually to future clinicians, technicians, researchers and educators who believe in the transformative power of medicine. A state-of-the-art, 16-acre health sciences campus under development in Columbia promises even more providers for the state's citizens and underserved communities.
A National Leader in Research
The university's vast research enterprise has earned the top Carnegie Foundation classification — R1— for offering the highest level of research activity at a doctoral university. That elite honor is one reason university researchers attracted $237 million in sponsored awards in 2022 in areas ranging from infectious diseases to cancer to brain health. When research thrives, students aren't just learning from the best and brightest, they're innovating alongside them in labs, programs and studies, too.
Achieving a Healthier State
The University of South Carolina system offers a world of opportunity for students interested in health-related professions. Nursing programs at all eight USC institutions help more nurses enter the workforce in a state that has the nation's lowest nurse-to-population ratio. Top-ranked programs such as exercise science, athletic training and online graduate nursing prepare students to be leaders in their respective fields. We're training the next generation of doctors, nurses, pharmacists, biomedical engineers, clinical psychologists and public health professionals.
The University of South Carolina School of Medicine Columbia is ranked No. 5 in the nation in graduates who work in the state's most medically underserved communities.
We are elevating life and
health for all South Carolinians
USC's neuroscience research offers hope
The University of South Carolina is focused on the brain. From autism and aphasia to Alzheimer's and other related dementias, university researchers are working across several academic disciplines to better understand how the brain works and to develop solutions that will improve people's health.
Unlocking the Mind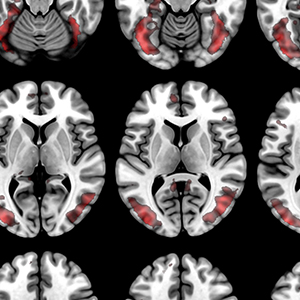 Advancing Nurse Education
Nursing has changed dramatically in recent years. Once found mostly in hospitals, nurses today are in community centers, primary care and home health settings, and in telehealth and mobile care, too. High demand, an aging population and other factors are driving a statewide shortage of nurses. At the University of South Carolina, we're working on all fronts to attract, retain, better train and grow the workforce we depend on for our nation's health.
A Culture of Caring
Improving Access to Health Care
South Carolinians face significant health care challenges. In the state's rural and underserved areas, the challenges are even more profound. Along with high statewide incidences of stroke, heart disease, diabetes and cancer, rural areas further struggle with having fewer doctors, nurses and hospitals available than more populous areas. University researchers and graduates are trying to close critical gaps.
Serving the Underserved
After a stroke
Nearly 180,000 Americans acquire aphasia, a language disorder that occurs after damage to certain areas of the brain, each year. And most of those cases are the result of stroke. It is especially prevalent in South Carolina, which has the seventh-highest stroke death rate in the nation. While some recover fully, most continue to experience aphasia to some degree. That's where treatment can help.
USC's language disorder research